Return To Product Listing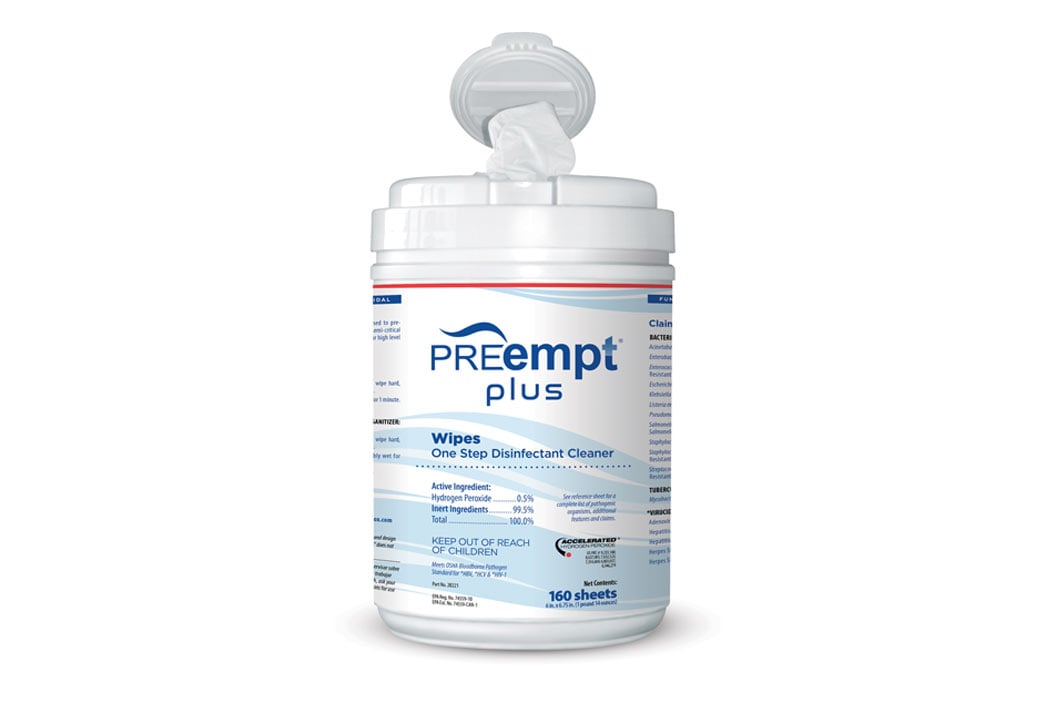 Designed to have exceptional cleaning performance, germicidal efficiency, health and safety and environmental sustainability, PREempt Plus One-Step Disinfectant Cleaner Wipes work to ensure user, protocol and product compliance with fast contact times and broad-spectrum efficacy. PREempt Plus utilizes Accelerated Hydrogen Peroxide (AHP), a patented synergistic blend of 0.5% hydrogen peroxide formulated with other inert ingredients that dramatically increase its germicidal potency and cleaning performance. PREempt Plus Disinfectant Cleaner Wipes are ideal for cleaning and disinfecting environmental surfaces in sterile compounding pharmacies, laboratory areas and other critical environments. Made of nonwoven meltblown polypropylene wipe material for even surface coverage and increased efficiency of AHP for fine particle removal, these wipes are ideal for use at the beginning of each shift to clean counters and other hard non-porous environmental surfaces.
Read More
Features & Benefits
Faster kill times make it easier to maintain compliance and appropriate dwell time
Less residue makes it more suitable for critical environments
Presaturated wipes leave appropriate disinfectant on surfaces
Contains low levels of hydrogen peroxide and nonhazardous, allowing for cost-effective disposal
Lowest EPA toxicity rating, contains no VOCs, and has a mild odor for better operator acceptability
Compatible with a wide range of materials for less wear on surfaces and equipment
Find A Contec Expert
Product Information
Denotes Sterile Product
Part No.
Description
Size
Sample
Description
PREempt Plus Disinfectant Wipes
PREempt Plus Disinfectant Wipes.
160 wipes/canister, 12 canisters/case; 1,920 ...