Michael T. Myers, Clinical Support Manager at Contec Healthcare discusses best practices for donning garb in light of the revised USP <797>.
The Chapter, published on November 1, 2022, mandates facilities to have a documented protocol for donning garb. Section 3.2 of the Chapter states that "The order of hand washing & garbing depends on the placement of the sink. (and) The order of garbing must be determined by the facility and documented in the facility's SOPs."
As part of Contec Healthcare's commitment to side-by-side support, we have developed sequences based on common sink locations in compounding pharmacies and we're ready to equip you with these best practices.
Stay Informed - Sign Up for the Newsletter
Sign up for our Contec Healthcare Newsletter and receive industry information as well as news about upcoming webinars.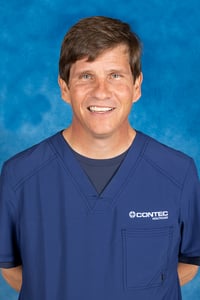 Michael Myers,
Clinical Support Manager
For more than ten years Michael Myers has been exclusively focused on helping Sterile Compounding Pharmacies.
Read More
What Topic Should We Cover Next?
At Contec Healthcare, we strive to provide webinars that address the real needs and challenges faced by professionals in the compounding pharmacy industry. If you have a specific topic or question you'd like us to cover in an upcoming webinar, please share your suggestions with us! Your insights will help us tailor our content to better serve you and your fellow compounding pharmacy experts.
Featured Contec Healthcare Products