Return To Product Listing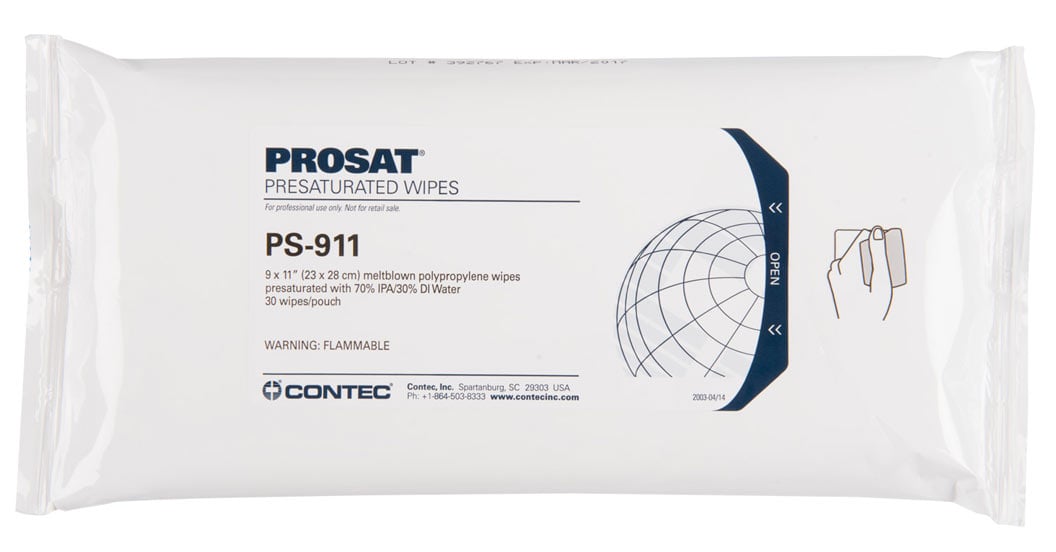 PROSAT PS-911 wipes are comprised of meltblown polypropylene wipes saturated with 70% Isopropyl Alcohol/30% DI water. Ideal for wiping gloves and surfaces. Convenient and safer to use than liquid IPA, PROSAT PS-911 presaturated wipes reduce solvent storage issues and provide more control over applications and processes. Resealable pouches with tamper-evident labels ensure product integrity and cleanliness. Presaturated alcohol wipes are convenient and safer to use than liquid IPA.

Also available in sterile configurations for critical applications.
Read More
Features & Benefits
Best suited for nonsterile compounding environments (Chapter <795>)
Low-lint meltblown polypropylene fabric
Reduces VOC emissions and solvent use often associated with spray options
Resealable pouch preserves cleanliness and solvent saturation levels
Find A Contec Expert
Product Information
Denotes Sterile Product
Part No.
Description
Size
Packaging
Sample
Description
PROSAT® PS-911 Wipes
PROSAT® PS-911 Wipes
Packaging
30 wipes/pouch, 50 pouches/case, 1,500 wipes/case